Abby & Jake
Abby and Jake moved to Bowdoinham, Maine in January 2014 to assume management of Apple Creek Farm. The enterprises include certified organic, grass-fed beef, goat and lamb. In addition, the farm produces certified organic eggs and pasture-raised broiler chickens. Other farm products include broth, pates, grass-fed fats, cashmere goat pelts, and sheepskins.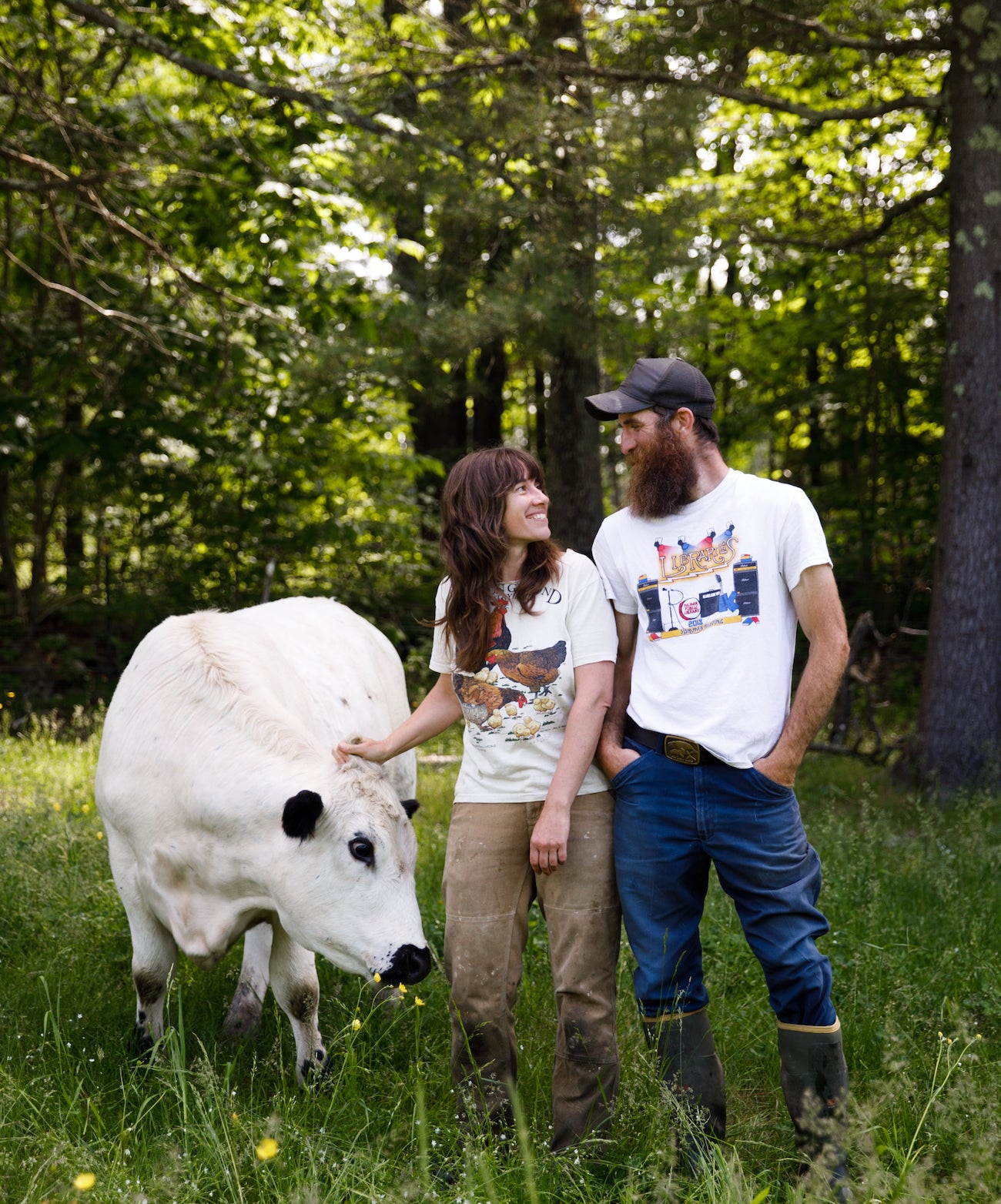 Stewarding the Land
The land that Abby and Jake manage today is the same place where Jake grew up and spent his childhood. In 1985, his parents Janet and Pete Galle purchased the entirely wooded property and moved their flock of sheep and three children to establish Apple Creek Farm. Jake spent his youth exploring the woods and helping his family clear land for a sheep barn and hay fields. Jake left the farm for college in New Hampshire and his travels after college involved stints as an artist-in-residence across the country. At the same time, Jake's connection to agriculture found him exploring livestock auctions through film and video before he headed to Virginia to work. After a stint working at Monticello, Jake took a year-long apprenticeship at Smith Meadows Farm in Berryville, Virginia. There he learned about direct marketing meat and eggs at farmers' markets in Washington D.C. and the surrounding towns as well as how to manage a grass-based livestock farm.
A Calling Back Home
When Jake moved back to Maine in May of 2009, it was with the intention of making a life and living on the land where he grew up. He began working with his father, managing a herd of cows and flock of sheep. It was at that time he reconnected with fellow artist and farmer, Abby Sadauckas.
Abby grew up in the rural Pennsylvania town of Hop Bottom. Abby had started her own farm on leased land and had recently purchased her first farm – Bacon Brook Farmstead – where she was raising organic livestock including goats and laying hens. In 2010, while both working full-time at the Maine Organic Farmers & Gardeners Association (MOFGA), Abby and Jake began farming together by raising meat chickens (broilers) and geese. That winter, the pair joined Brunswick Winter Market to sell their products. There, they found the community they were looking for!

Abby and Jake wanted to build a life and living from the land, feed their community and use their creativity to raise animals in collaboration with nature. The pair loves the autonomy of being small-business owners, that their days are primarily spent outdoors, and the opportunity the farm affords them to meet, connect and help their customers on a weekly basis year round at farmers' markets in Brunswick Maine.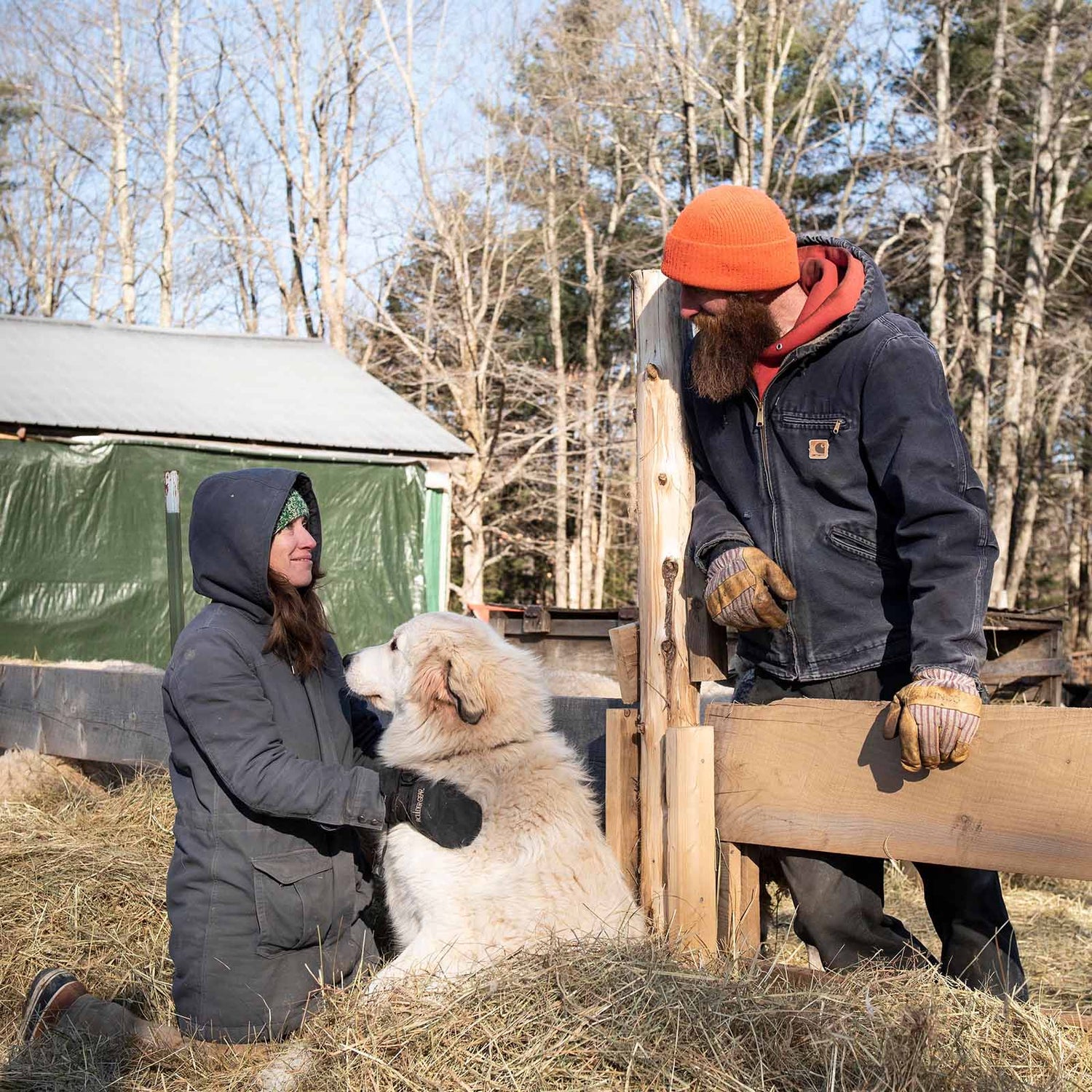 Putting Down Roots
In 2014, Abby and Jake together purchased 70 acres of land adjacent to the original "home" farm where Jake grew up. They call this spot, "North Ridge," and in 2018 moved into their new farmhouse there. Over time, this location will be where they plan to open a farm store and to build a new barn for their sheep and goats.
Employment
In order to keep up with our animals during the growing season, we bring on a few more helping hands. We're hiring for several positions for the 2023 season.